=== 2021-12-28 | Vacation Watch list ===
SPORTS
Browns: Ravaged by Covid for two weeks they had two close games, but still two loses. Now 7-9 with an outside chance to make the playoffs. 4 turn-overs, bad kicking and again getting rooked by the refs, they still ended only two behind the Packers.
MOVIES
The Lord of the Rings: My youngest has been wanting a sword for sometime and she got Hadhafang for Christmas. Surprisingly, she has not seen the Lord of the Rings movies. We have been through Fellowship (stayed up until 2:30am) and Two Towers. Still have to watch Return of the King.
8-Bit Christmas: Watched as a family movie, was fine, not very memorable though. Not a new Christmas Classic.
Pitch Perfect: Always a go to in this house. One of the best movies ever made, with only one possible better movie, Pitch Perfect 2. Plus:
Donít Look Up: Finished this one last night, an excellent biting treatise on the recent and current state of affairs in politics and in general in the United States. All star cast.
SERIES
Altered Carbon: This is the second time Iím trying to watch this series. It 100% should be right up my alley but I just cannot get into it. Iíve gotten through two episodes and maybe Iím not paying enough attention but I was pretty lost by the end of it. This falls in line with The Expanse which I feel like I should also really enjoy but do not, and I have watched many more of those episodes.
Lost in Space: Really enjoyed the first few seasons, started the new season and was pretty disinterested. Someone suggested to me to go back and re-watch the first two (three?) seasons before watching the new one, but who has time for that?
Itís Always Sunny in Philadelphia: I have and on and off affair with this show. I have watched most of the seasons and just started the newest one that is streaming. I always enjoys itís take on the current state of affairs and this season is no different. I just have to be in the right mindset for their particular style of self-loathing comedy.
Curb your Enthusiasm: An up and down season that just ended, not even close to their best effort. Some genuinely hilarious moments, but never enough JB Smoove for me.
STAND UP
Jimmy Carr: His Dark Material: I do not watch stand up comedy specials, as a general rule. However, loving all British Comedy shows and desperately missing an outlet where I can watch Eight out of Ten Cats does Countdown (I was able to watch this years Christmas Special) I decided to give it a go. It was interesting to see the difference between his PG-13 BBC stuff and his R and X-rated show special material. Pretty funny, seemed a little over-written and over-produced to me, but again I donít watch stand up that much. His crowd work was pretty much on point.
That is all I can think of for now, still have a bunch of vacation ahead of me so there will probably be another update in a few days.
---
=== 2021-12-23 | Iíve got a lot of problems with you people! ===
---
=== 2021-12-23 | On Firefly: The Space Between Characters ===
While I never intended for this to be a space to post YouTube videos, here I find myself putting up two videos in three posts. But this is an excellent non-spoiler deconstruction of the best one-half season tv show ever made. Time for a re-watch.
---
=== 2021-12-21 | Boosted ===
On Friday I went to get my hassle-free, in and out, Pfizer booster from CVS. It had taken me a bit longer than I wanted to find the dose I wanted at the location I wanted but things finally aligned. I had no reaction from the first two shots, also Pfizer, and I didnít think I was going to this time. So 9:30 rolls around and I usually burn the midnight oil on the weekends but I decided to go to bed. In addition to the booster it had been a long week and I had to physically go into the office a couple of days (how did we used to do that five days a week?!). Anyway, I went to bed and slept until 9:30 the next morning. I havenít done 12 hours in a long time, and this was a hard 12 hours, I might have gotten up for one bathroom break but then right back to sleep. Boosted!
---
=== 2021-12-19 | God Bless you Sean Lock. I needed this tonight. ===
I defy you not to laugh. Sean Lock was brilliant. RIP.
#bbc
---
=== 2021-12-19 | 137 Shots. ===
Jesus. Fucking. Christ.
"And finally I want to say to you that we have some great struggles ahead. All over the nation and right here in Cleveland. But as we struggle let us have the courage to be non-violent. You see, it doesn't take much courage to be violent. It is ultimately the strong man that can be non-violent. It is the courageous man that can be non-violent."
#movies #reviews
---
=== 2021-12-15 | I agree with the analysis of my current mood. ===
I agree with the analysis of my current mood.
#football #cleveland
---
=== 2021-12-14 | Dark (Netflix) S1E2 ===
Dark is hitting all the right spots. I started it once, but didn't realize it was a German series with subtitles and I wasn't in the mood so I punted on in it. I'm in the mood and very much enjoying it. The music is perfect, reminds me of The Outsider soundtrack. It is visually dark and gorgeously gothic and foggy. The acting is fantastic, the backstory is crawling its way out of the dirt and onto the screen. Just wonderful so far, glad there are three seasons so many more episodes to go.
#tv #reviews
---
=== 2021-12-14 | The Dark (2018) and Dark (2020) ===
I finished the 2018 movie The Dark last night. I really enjoyed it, so many films about creepy cabins and hauntings in the woods but this one had a nice spin on it. Chef recommends. You can watch it on Amazon Prime.
Incidentally, I was looking for something new on Netflix and realized I had started Dark, the 2020 German series, but had not gotten that far into the first episode. I have to be in a specific mood for subtitled shows. Last night I was in a specific mood for a subtitled show and I dug the first episode. Many plots ramping up quickly, not just angsty teenagers. I'm in.
#movies #review
---
=== 2021-12-13 | Sean Lock remembered by Bill Bailey ===
I really wish there was a reliable way to get BBC4, or just a single show from that channel, in the states. I used to have a source for Eight out of Ten Cats does Countdown but it has since gone away. Anyway, here is a nice remembrance of Sean Lock by Bill Bailey
#bbc #tv
---
=== 2021-12-06 | That's right! I coached basketball. And one! Time out! ===
Google photos reminded me that six years ago A: I was already bald and 2) apparently I used to coach 4th grade CYO basketball. Thankfully the boy was around for some of the games to help. Say your pre-game prayers!
#nostalgia
---
=== 2021-12-06 | Wish you were here! ===
>
#movies
---
=== 2021-12-03 | Thursday night virtual DND ===
We are working our way through a side adventure in our virtual Dungeons and Dragons campaign. We are playing characters that the Dungeon Master has provided, not ones we rolled up ourselves. It is a little different playing a character you haven't designed yourself but we are muddling our way through it.
#gaming #dnd
---
=== 2021-12-02 | Zombicide 2 | Washington ZC E5 Take 2 ===
We decided to do a redo of the fifth encounter in Zombicide 2 | Washington ZC last night. We got much further but we were boned in the end. The level requires you to open a lot of clues across the board and there is only one main thoroughfare for all the traffic, human and zombie alike. I think we decided to give it one more shot next week, and however it turns out I think we are going to put it behind us after that attempt.
#gaming
---
=== 2021-12-01 | I know what I like And I like what I know ===
Many years ago my brother and I took our mother to a Cleveland Indians game in Florida. She had always wanted to go. We saw Bob Feller at the game. Coincidentally it turned out that there was going to be a Space Shuttle launch in the middle of the night, and being the big nerds we are, my brother and I wanted to see it. So we all three drove out to Cocoa beach to watch it. This was in the early days of cell phones and digital cameras but I had both at the time. It was an overcast, dark morning and as the Shuttle was launching I was trying to capture it with both devices. It was into the clouds in seconds and out of sight. Why am I telling you this? Because I ended up with a couple crappy pictures instead of just taking in a very rare opportunity for someone from Ohio to just experience a Space Shuttle launch in person. But I learned my lesson. Last night I only took a single picture, mostly to send to my brothers to make them jealous.
That is Mike Rutherford, Tony Banks and in front in Phil Collins. That is Genesis. For the first time in a pretty long time we went to a concert and it was great. They played for over two hours and had a wonderful set list (including Follow you, Follow me which Phil also played on his solo tour, (this is the first song my wife and I danced to when we got married 100 years ago)). We saw Phil Collins on his solo tour a few years ago and there definitely has been some loss of singing ability so he had some backup singers to fill in the gaps. They also played a few instrumental sets to give him time to rest between songs. He sang Home by the Sea and as it was ending I was turning to my wife to say, "It would be cool if they played Second Home by the Sea" but before I could get it out they started playing Second Home by the Sea! It was a lovely evening out to dinner and a show with friends.
#music #reviews
---
=== 2021-11-30 | Genesis - The Last Domino? ===
A few years ago we went to see Phil Collins on what we thought was his final tour. Honestly the guy can't stand up, he can barely move, but the pipes were still there! It was a great show. And then they put the band back together for this tour! While I have very few regrets in life, one that I must list is not going to what would be the last Rush tour (RIP Professor). Tonight we venture downtown to the romofiho to witness The Last Domino? (I took tomorrow off, and I am not driving, anticipating a fun evening.)
#music #reviews
---
=== 2021-11-28 | Dune on the big screen, 1922 on the small screen ===
Saw Dune again for probably the fourth time. This time on the big screen in the comfy cinema chairs. As expected it looks gorgeous on the big XD screen and sounds delicious as well. Most of the family came along and surprisingly they all enjoyed it. I was pretty sure my oldest and youngest would like it but my wife took a liking to it: "It wasn't all murder and explosions and I didn't have to see that guy cut those peoples heads off," is what she said (among other things). Plus it is basically a story about a mother and her son, what mother wouldn't enjoy that?!
Then after watching some good, some bad college football I spun up 1922, another Stephen King yarn. Another good one too, I believe I read the novella some time in the past and the movie held up to the eeriness of the written word. A nice updated homage to Edgar Allen Poe with a taste of Bonnie and Clyde on the side.
#movies #reviews #football
---
=== 2021-11-27 | Fright Club ===
In my ongoing saga of paranormal tv shows I've found another new one that I kinda like. It is Fright Club that on Travel Channel (which really needs to rebrand as Ghost Channel or Paranormal Channel or something). It puts together "skeptic" Jack Osbourne (son of Ozzy Osbourne) with "Ghost Brothers". Jack does a show I like called "Portals to Hell" and the other guys have their own show which I tried to watch but never got into. The combination of the four guys is pretty great. The three Ghost Brothers know each other well, obviously, but don't hesitate to break Jack's balls. They just watch clips, and I am not a big fan of "reaction" videos, but also bring in "experts" to talk about them and try to debunk them a little bit. I like it.
#paranormal #tv #reviews
---
=== 2021-11-26 | Planes, Trains and Fucking Automobiles ===
Argue all you want over the best Christmas movie (Die Hard), there is only one, dear to my heart, Thanksgiving movie that must be watched. Right. Fucking. Now.
#movies
---
=== 2022-11-24 | An Autumn walk in South Euclid ===
This might actually be in Lyndhurst, it is right on the border.
#pictures
---
=== 2021-11-21 | East side and Lake Erie from the Office ===
East side and Lake Erie from the Office 2021/11/22
#cleveland #pictures
---
=== 2021-11-20 | Total Recall 2012 ===
I guess they remade Total Recall in 2012, who knew? I completely missed it but it is on Netflix now so I gave it a watch. It is the same plot just with updated CGI and actors, and no more Mars. Also no pulling the magic bean out of you head through your nose. That was the best part! Anyway it was fun if you like running around and shooting and things like that. Spend two hours on a Saturday afternoon with Jessica Biel and Kate Beckinsale? I'm game.
#movies
---
=== 2021-11-19 | The Wheel of Time: S1 E1 | Leavetaking ===
Well this dropped today, I knew it was coming but didn't realize it was today and it looks like it is the first three episode. When the first episode of Game of Thrones aired I loved it, all in, all the way, really awesome (sorry about those last two seasons btw). For The Wheel of Time, like most things in the classic written fantasy genre I had tried to read the books at some point. But there are a lot of books, and they are long, and somewhere along the way I just put them down with no desire to keep reading. I have no idea how long the series is planned for but the first episode was pretty solid. GoT had some understated mysticism/magic, TWoT definitely brings spell casting to the forefront of the story in a pretty visually impressive way. This appealed to the Dungeons and Dragons geek inside me.
All that being said, it is Friday night, I have the house to myself and just picked up a tasty pizza. I will either watch the next two episodes or re-watch Dune again with the volume turned all the way up before I switch my attention to Parker Schnabel later this evening. Update: Dune won.
#tv #movies #reviews
---
=== 2021-11-18 | Calvin and Hobbes 1985/11/18 first comic strip ===
Pride of Chagrin Falls, Ohio, the recluse Bill Watterson gave us ten years and many books of wonderful pleasure. First syndicated today in 1985. Sadly, I lost my entire Calvin and Hobbes library (among other things) in the great South Euclid flood of 2020.
Someday hopefully I will rebuild the collection, but for now let us enjoy Calvin meeting Hobbes for the first time.
#nostalgia
---
=== 2022-11-17 | Something's missing all right... ===
Having bad luck with vehicles lately. This is as close to a classic "grandma" car as you can get, 2013 with only 63 thousand miles on it. Pretty good little car for the kids to learn to drive in. The problem is it has just a tiny little nine volt battery in it. Tonight, it was replaced, not for the first time (the battery, not the car).
#family #pictures
---
=== 2021-11-16 | The Deeper you Dig ===
I recently finished this really good, surprising, independent film on Amazon Prime called The Deeper you Dig. The very small cast of mostly related people (mom, dad and daughter play the main roles and mom and dad wrote and directed), excellently portray their characters. It does get a little bit too psychedelic for me in parts, but those sections do not linger. Definitely not a conventional horror or thriller and more than the average ghost story. It really had me and I never had to click the 15 second fast forward button. Chef recommends!
#movies #review2
---
=== 2021-11-15 | South Cemetery - Gates Mills Ohio | Fall and Winter===
Another one of my favorites. This is South Cemetery in Gates Mills, Ohio on my favorite road, Chagrin River Road. Winter snow meets Fall leaves.
#graveyard #pictures
---
=== 2021-11-11 | Zombicide 2: Washington ZC | Episode 5 TPK ===
Last night did not go well for our survivors and the zombies prevailed. We could never really get rolling in the direction we needed and kept coming across useless cards and unlucky abominations. My characters was one of the first to die, but the others quickly followed. We will likely try it again next week. Zombicide 2: Washington ZC
#gaming
---
=== 2021-11-11 | Maple Grove Cemetery, Willoughby Hills Ohio ===
Another to add to the collection, a pretty small cemetery in Willoughby Hills, this is Maple Grove Cemetery.
#graveyard #pictures
---
=== 2021-11-10 | Obligatory pictures of Cleveland from the office. ===
I had to go into the office today. I discovered a new feature on the camera on my phone called Ultra-Res so I wanted to try it out. Here are the views from the Keith building in Playhouse Square looking West, North, East, and two looking South. They put up a new apartment building across the street so our view South isn't as fun (or sometimes it is much more fun!) anymore.
#pictures #cleveland
---
=== 2021-11-09 | curb your enthusiasm: season 11 ===
Larry David channels my inner grumpy-old-man dialogue so well. This season started off a little bit slow in episode 1 but the next two episodes picked up the pace and the hilarity. Still trying to get used to when a guest star is playing a character or themselves (see Patton Oswalt in episode 3).
#tv #review
---
=== 2021-11-08 | You're a little paranormal! ===
I watch a lot of paranormal reality shows on television. And when I say a lot, I mean most of them. Much to my wife\'s chagrin. I like some more than others but I am hugely, bigly, massively skeptical of all of them. There are a few that I like, and a few that I hate. I present to you now one that I like and one that I will never watch.
These Woods Are Haunted, which I think is a rebranded Terror in the Woods or vice versa, but regardless, I like this one. It is people (I think, maybe they are actors?) telling their true stories about shit they have witnessed. Mostly Sasquatch stuff but I don't mind that. The recreations are sometimes over the top but I enjoy the eyewitness accounts. What show is unwatchable? The Dead Files. Just trash, absolute trash. I watched a few episodes of the first few seasons and it is just garbage. Terrible. I'm not even going to try to find a hyper link to it.
#paranormal #tv #review
---
=== 2021-11-07 | Virtual DnD 3.5 Edition ===
After taking a bit of a sabbatical after a TPW this summer we finally got our schedules aligned and spun up Roll20 and Discord to reboot our campaign. We are playing in a world inspired by the early writings of Raymond E. Feist, whose own world and books, if memory serves, are based on his gaming group. It was great to virtually get the gang back together and play some 3.5 edition Dungeons and Dragons.
#gaming #dnd
---
=== 2021-11-05 | Z2: E4 Washington ZC | Pennsylvania Avenue ===
Our host broke out some more accessories for our Zombicide 2: Washington ZC game last night. We are enjoying this version very much. In the end we won in about 90 minutes, although we had to stretch the rules a little bit to get there.
#gaming
---
=== 2021-11-04 | North Coast Nostalgia. . . I think. . . ===
Right next to the Cedar Lee Theatre in Cleveland Hts is a barber shop, the Cleveland Barber Studio. It was not always this type of shop. Growing up this was one of my favorite places to ride my bike. It was the closest comic book store to my house. I am pretty sure that it was called North Coast Nostalgia and that after I stopped going it moved to Lyndhurst and then eventually closed it's east side location completely. There is still a North Coast Nostalgia on the west side. However, I also recently learned about the Mandela Effect so it is possible I am getting the name wrong, but I'm certain of the location. Anyway, I drove by it this morning and stopped at the light right in front of it. Talk about nostalgia.
#nostalgia
---
=== 2021-11-03 | BBC: detectorists on Prime ===
Last night I finished what was likely the final season of detectorists on Amazon Prime. I can go on and on about how the BBC is so much better than American TV, especially their comedies and this is another show to add to the group. It is about two friends whose hobby is to go metal detecting and the humor is delightfully British and dry. The other bonus of BBC shows is they know how to do a story arc, and they know how to end a show. This is three series, six episodes each and the way the last series ended it really felt like the end of a nice story arch. Check it out if you want some great British comedy in extremely digestible half hour episodes.
Upcoming posts include why every American adaption of great BBC shows is terrible (please refer to the current show Ghosts) and reviews of all the shows I have binged over the pandemic.
#tv #bbc #review
---
=== 2021-11-02 | Sniper on the range ===
A few weeks ago we were in Kentucky for the weekend for our annual hay ride and other festivities. I forgot to bring my guns but my brother-in-law always has plenty of weapons to play with.
This target was setup at about 100 yards down range. Every "ding" you hear is a bullseye. I've never seen a gun as dialed in as this one was. Coyotes in Kentucky are not a fan of it.
#family #kentucky #shooting
---
=== 2021-11-01 | The Outsider ===
When we were on vacation this year and I took a Stephen King book with me. I was never a huge fan but always like most of his stuff, especially when I was looking for an easy read. I can't remember the name of the book I was reading but I had recently watched and thoroughly enjoyed the HBO miniseries: The Outsider. It is an excellent combination of supernatural and pessimistic, realist characters who do not believe in such things.
Anyway, the condo in Myrtle Beach we were staying in had a bunch of books that folks had left and one of the was The Outsider by Stephen King.
I told my daughter that I really liked the miniseries and she decided to read the book. So we raced to see who would finish their Stephen King book first (I had a head start so I won by half a day). Once she was done I grabbed it and read it and finished it at home (did I steal a book?) and it was great. As much as I enjoy the supernatural and ghost hunter shows I am a huge sceptic of it all so the main character really played out well for me. I just started Later by Stephen King and I am enjoying it as well.
#review #tv #reading #family
---
=== 2021-10-30 | Zombicide 2: Washington ZC ===
Last night was our weekly gaming night, after going through all the campaigns in Zombicide 2: Fort Hendrix we switched to Zombicide 2: Washington ZC and frankly, I think we have all been enjoying ZC more than FH. We played episode 3 of ZC and the scenario instructions said it should only take 45 minutes but we were able to drag it out to about 1:15. We won the scenario but had one fatality (4 players, 6 characters).
#gaming
---
=== 2021-10-29 | /r/BandofBrothers ===
Ten years ago I started a subreddit called r/BandofBrothers to celebrate and talk about the greatest mini-series of all time. Yesterday it went over ten thousand subscribers! Hustle over and join if you like the show.
#reddit
---
=== 2021-10-28 | Sunrise from the office ===
Had to go downtown to my office a couple of weeks ago (a rare occasion) and wanted to try out the sunrise (right over my house!) with my new camera (that's what we are calling cell phones these days yeah?)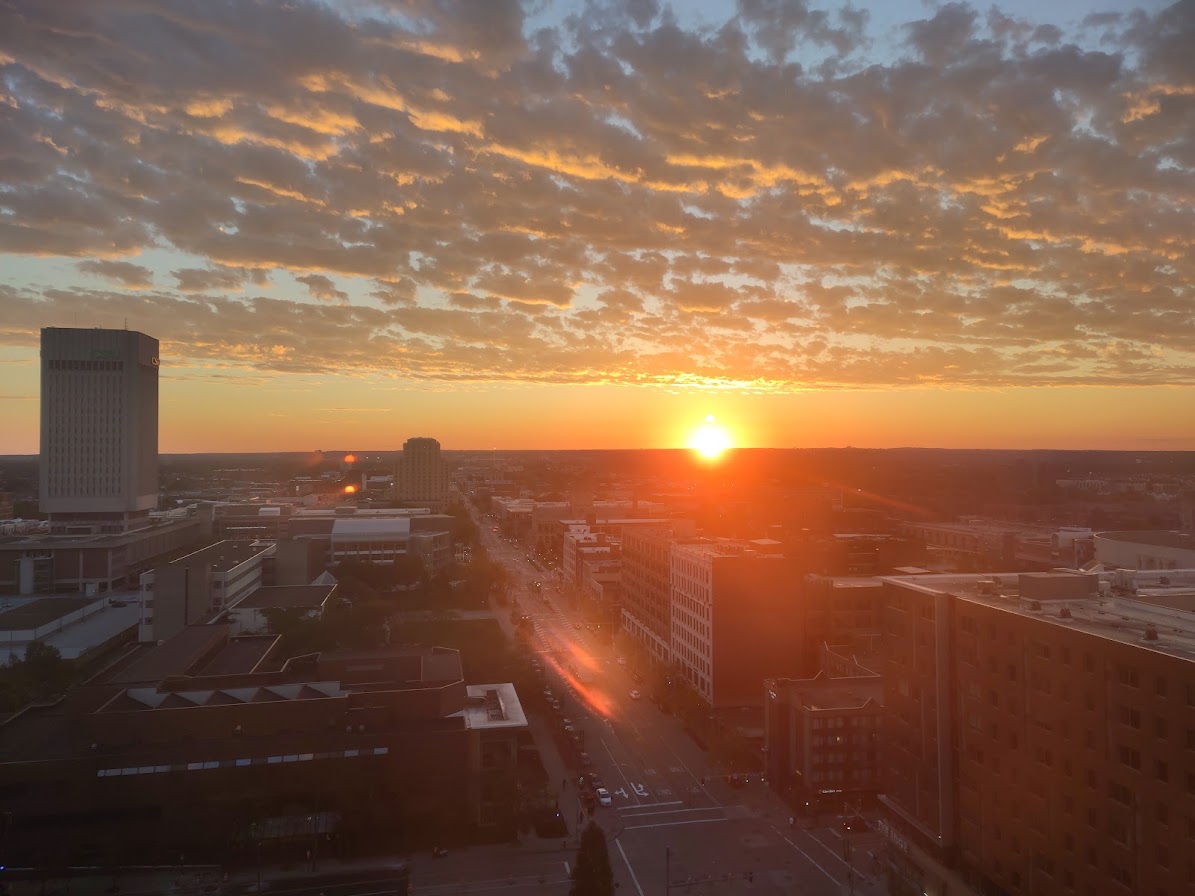 #cleveland #pictures
---
=== 2021-10-27 | Tales from the Darkside ===
I found some of the old Tales from the Darkside tv episodes on vimeo (Update: This content has since been removed) and I have been enjoying a couple every night. They are amusing and campy and very low budget. I have remembered very few of them so far, the notable exception is the lottery episode with Bud Cort: "Snip, Snip" (also starring a young Carol Kane). In going through the episodes I am surprised at the number of recognizable actors show up in them.

I recorded the introduction and will share it here, although it did complain about a copyright violation, so I am not sure how long it will be up.

#nostalgia #review
---
=== 2021-10-27 | A Weekend at Ohio University ===
A Weekend at Ohio University
#family
---
=== 2021-10-27 | The Trip ===
"The Trip" (on netflix) is great fun. I love Noomi Rapace and this was just a unique fun romp. Always use the subtitles though, the voice-overs are terrible (See Squid Game).
#reviews
---
=== 2021-10-26 | Only Murders in the Building ===
Another series I finished last week and really enjoyed, some fun twists and turns and I always have a soft spot in my heart for Steve Martin. It is on Hulu and has be renewed for a second season. What I can't decide is how I feel about them dropping one a week instead of the whole series at once like they have trained us to enjoy over Covid isolation.
#reviews
---
=== 2021-10-26 | Pale Blue Dot ===
Voyager 1, which took this famous image of Earth as a "pale blue dot," offered a new perspective on our home planet. If NASA greenlights this interstellar mission, it could last 100 years
#space
---
=== 2021-10-26 | Waite Hill Village Cemetery ===
Found this interesting cemetery on the way to gaming a few weeks ago. This is the Waite Hill Village cemetery on Waite Hill road. I'm not going to tell you the name of the village it is located in, you have to figure that one out yourself.
#graveyard
---
=== 2021-10-25 | Dune ===
I loved the new Dune. It was audibly fantastic and visually spectacular. One friend said that you would be lost if you had not read the books, but I have read the books so... Check it out.
#movies #reviews
---
=== 2021-10-25 | NFL anniversary commercial with all the player names ===
#nfl
---
=== 2021-10-25 | Apparently, I am very Scottish ===
#ancestry
---